Just when I think the crazies have sunk to the lowest level of low, they go and prove me wrong. Their Queen of Mini Cooper is not getting an Oscar campaign because IFC has decided to push CoSM until 2015.  You would think IFC gathered 100 puppies and kicked them off a cliff! I couldn't believe the reactions I was reading, this one for example: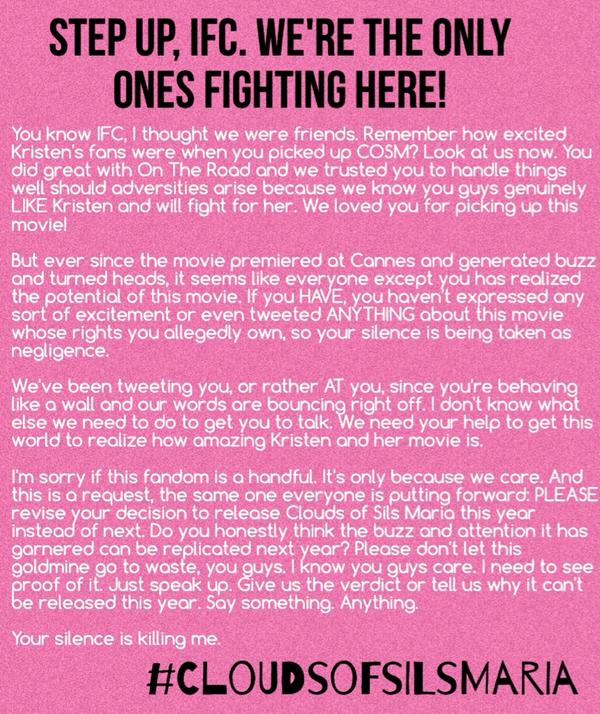 Let's talk about this, OTR was a success? Did I miss where it was a BO hit and won awards? To my knowledge it tanked.
"We need your world to know how amazing Kristen Stewart is" What world would that be because I am pretty sure the only thing she is amazing at is screwing her director in a mini.
"Sorry if we are a handful" WTH you are not just a handful, you are all bat shit crazy with a side of psycho. You all need to take your meds and get this thing called a life. Instead of tweeting movie distributor,s how about you put all that blood, sweat and tears into something worth it, like world hunger? #secondhandembarassed
So on the Rob front, he was great at TIFF and looked like he enjoyed himself. He looked genuinely happy. Dropping 100 pounds of garbage in glad bags will do that to a person.
Although it really is none of our business who Rob dates, screws or hangs with, I love that FKA Twigs would not appease the sheep and stated this:
"When asked about her relationship with the Hollywood star, she said: "I think that I like to keep my personal life personal."
I call that karma, sheep are always going on and on about how private Rob and Plank are 😉